It's been said that some of the best advertising around comes by word of mouth from customers who are grateful for a job well-done. Below are some cards, letters, and notes provided through the years by some of our clients.
At Orchard City Lock, we strive to treat each customer with the kindness, respect and attention to detail they deserve.
We are thankful and proud of the great rapport we share with our clients- many of whom we now call our friends.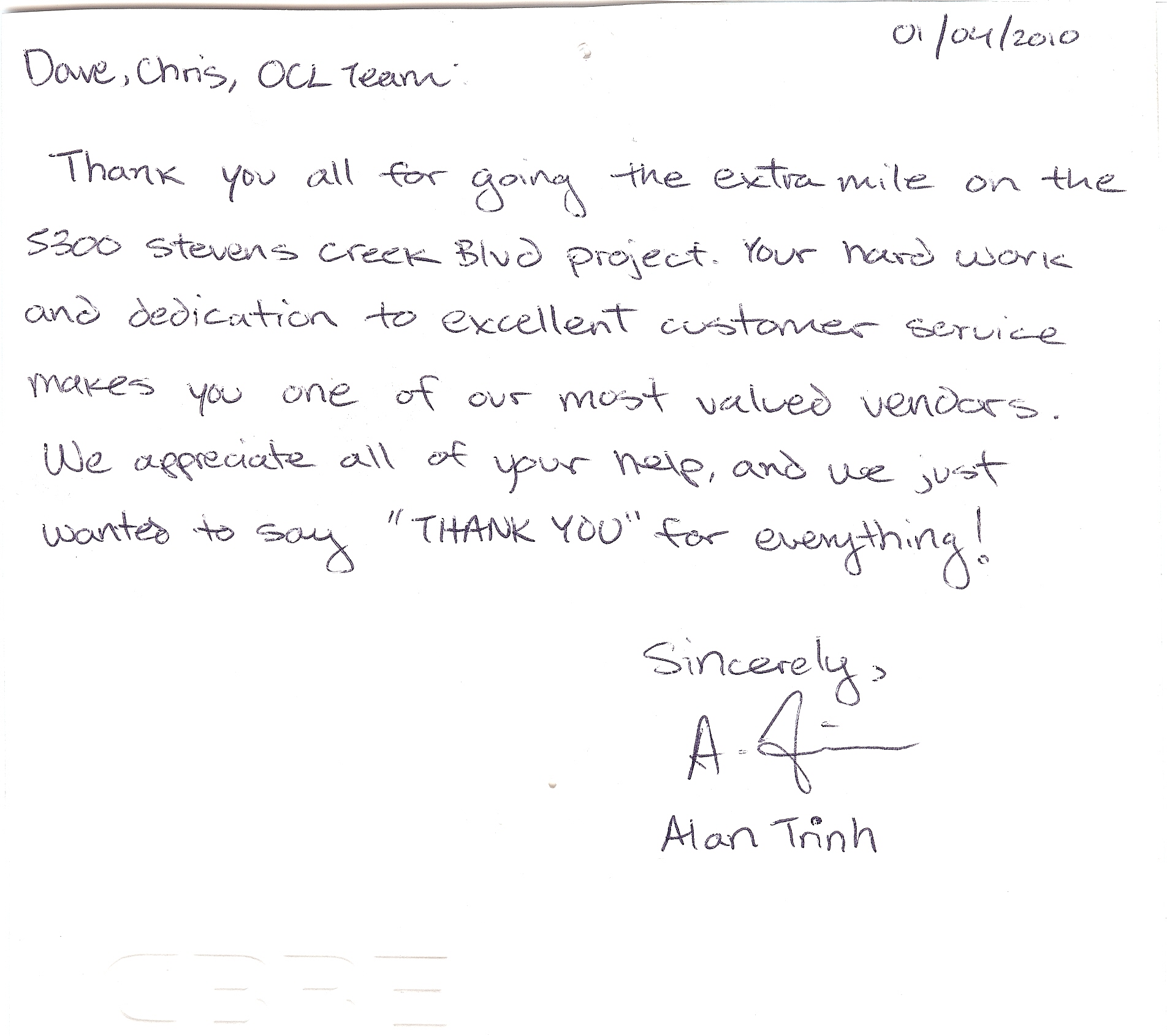 Dear Chris & OCL Team,
Thank you all for going the extra mile on the – Stevens Creek Blvd project. Your hard work and dedication to excellent customer service makes you one of our most valued vendors. We appreciate all of you help and we just wanted to say "Thank You" for everything!
Sincerely, Alan Trinh
Alan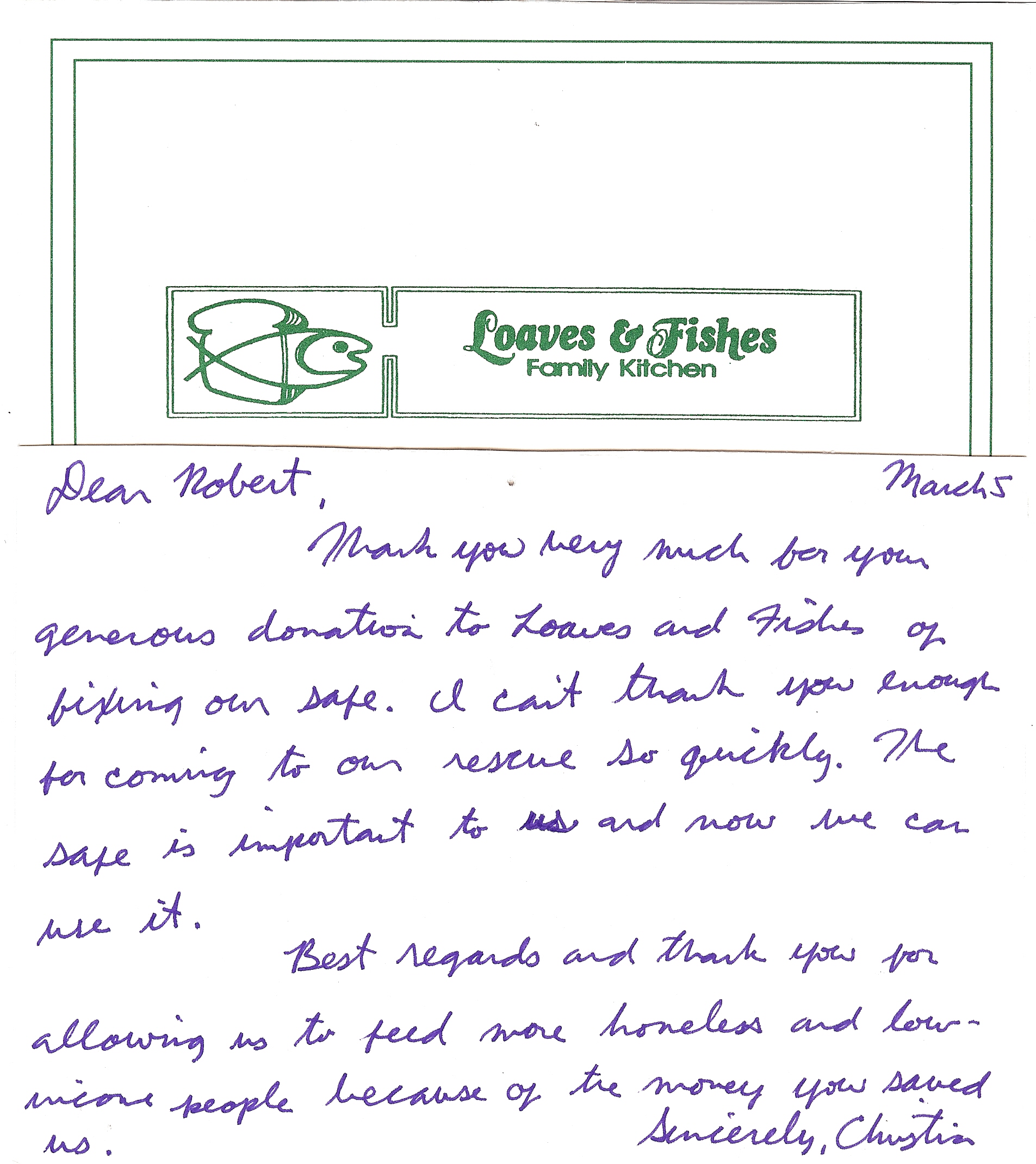 Dear Robert,
Thank you very much for your generous donation to Loaves and Fishes and fixing our safe. I can't thank you enough for coming to our rescue so quickly. The safe is important to us and now we can use it.
Best regards and thank you for allowing us to feed more homeless and low-income people because of the money you saved us.
Sincerely,
Christina
Loaves & Fishes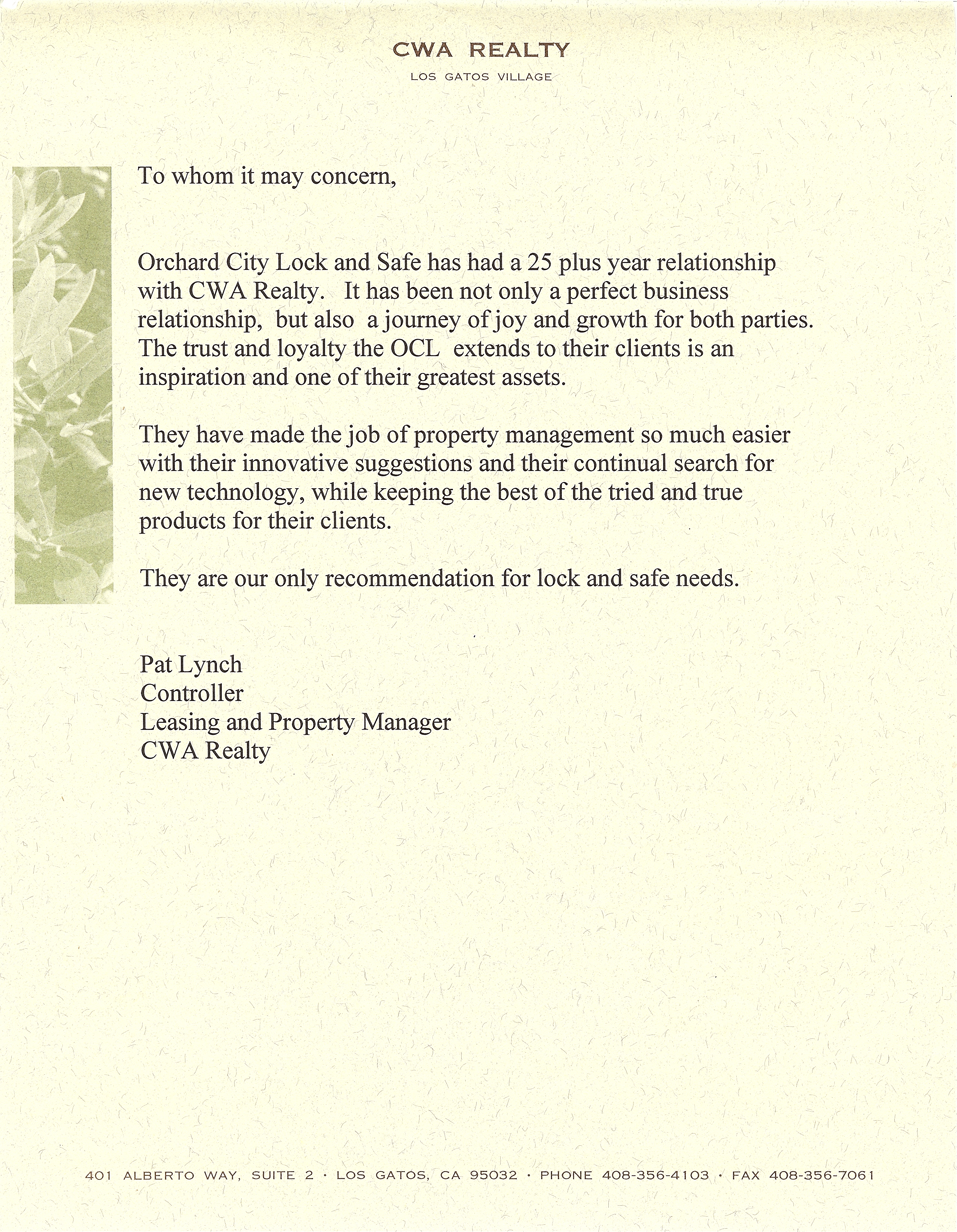 To whom it may concern,
Orchard City Lock and Safe has had a 25 year relationship with CWA Reality. It has been no one a perfect business relationship, but also a journey of joy and growth for both parties. The trust and loyalty of OCL extends to their clients is an inspiration and one of their greatest assets.
The have made the job of property management so much easier with their innovative suggestions and their continual search for new technology, while keeping the best of the tired and true products for their clients.
They are our only recommendation for lock and safe needs.
Pay Lynch
Pat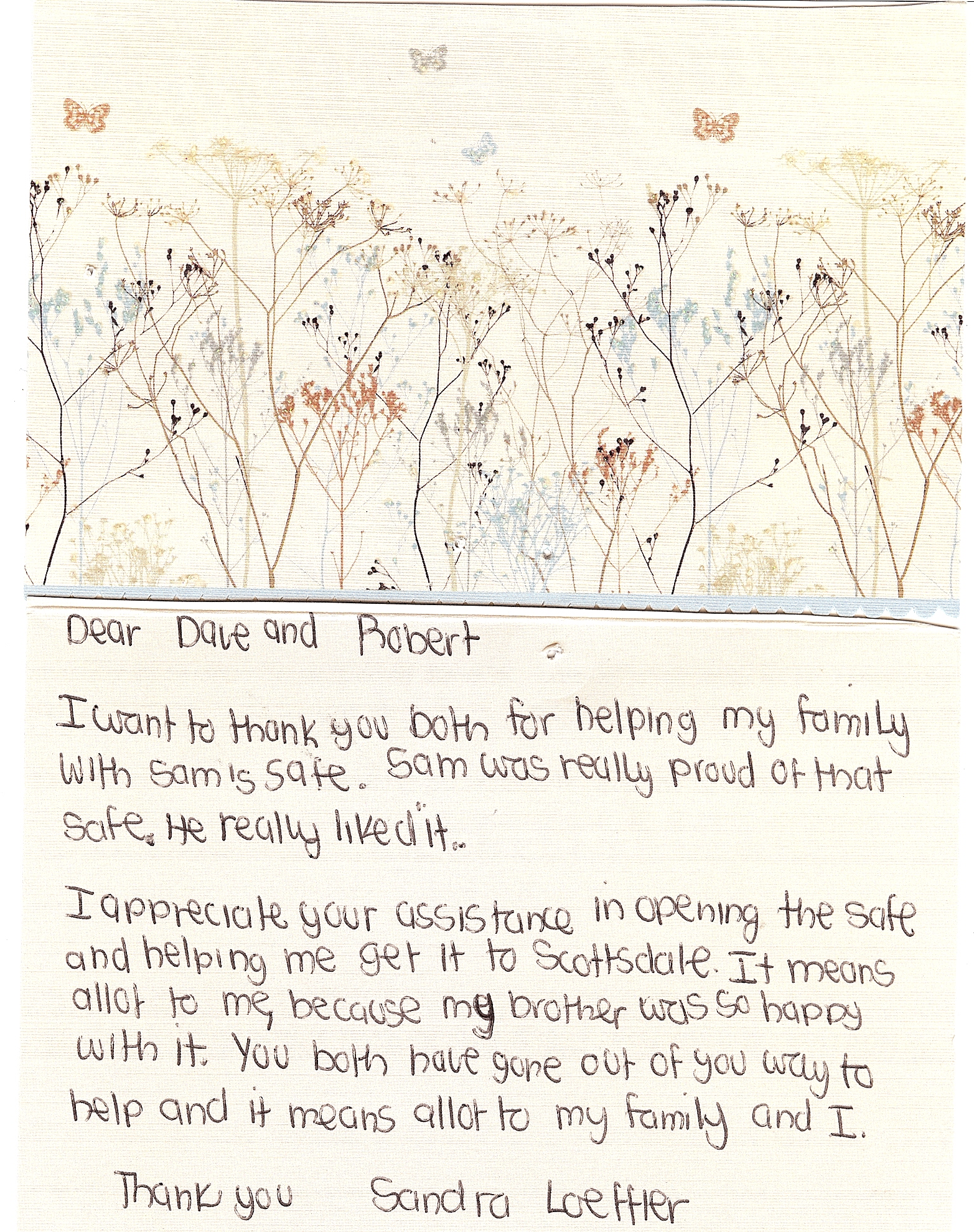 Dear Dave and Robert,
I want to thank you both for helping my family with sam's safe. Sam was really proud of that safe. He really liked it.
I appreciate you assistance in opening the safe and helping me get it to Scottsdale. I means a lot to me because my brother was so happy with it. You both have gone out of your way to help and it means a lot to my family and I.
Thank you,
Sandra Loeffier
Sandra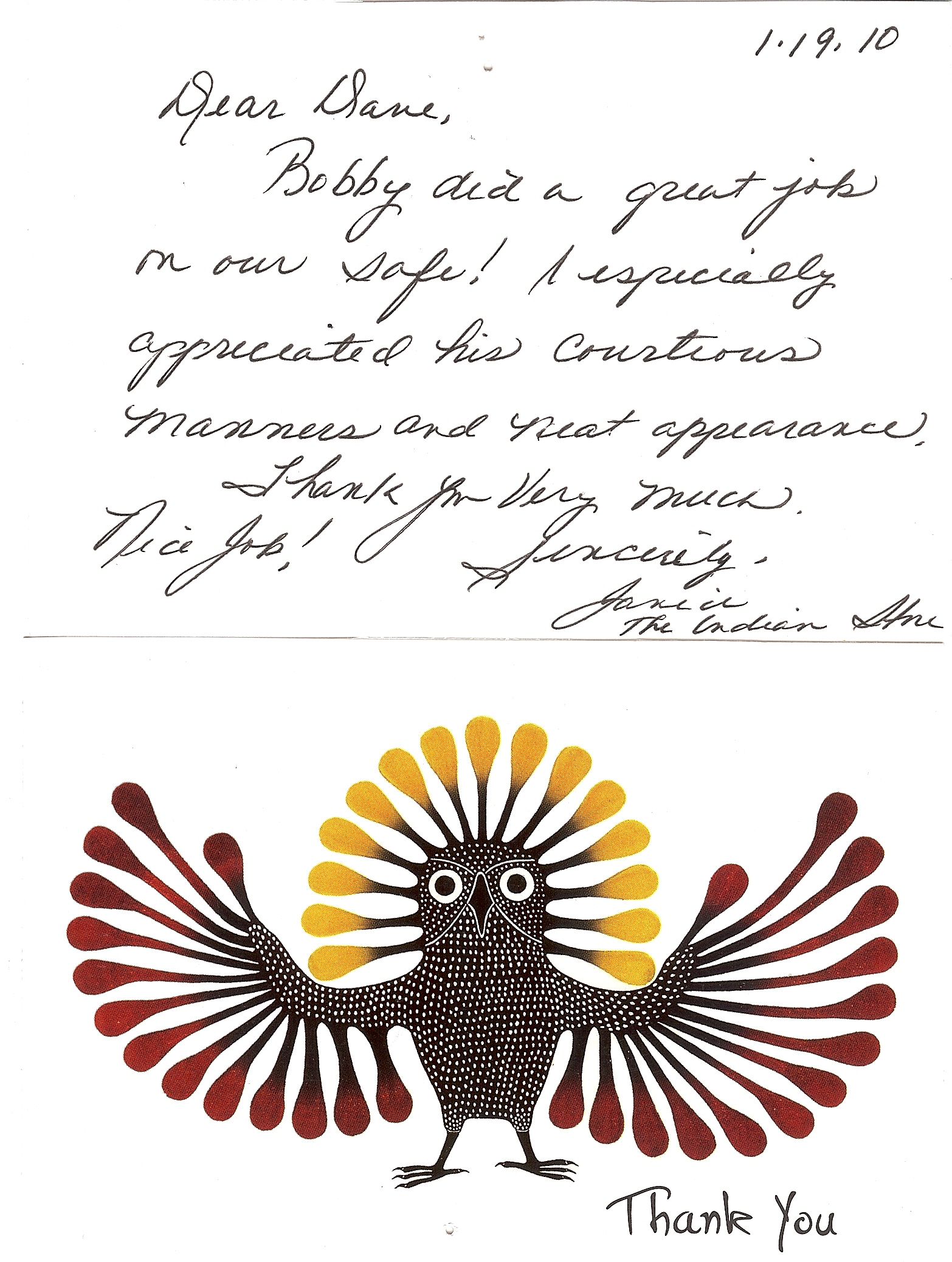 Dear Dave,
Bobby did a great job on our safe! I especially appreciate his curious manners and neat appearances.
Thank you very much. Nice Job!
Sincerely,
Janice
Janice